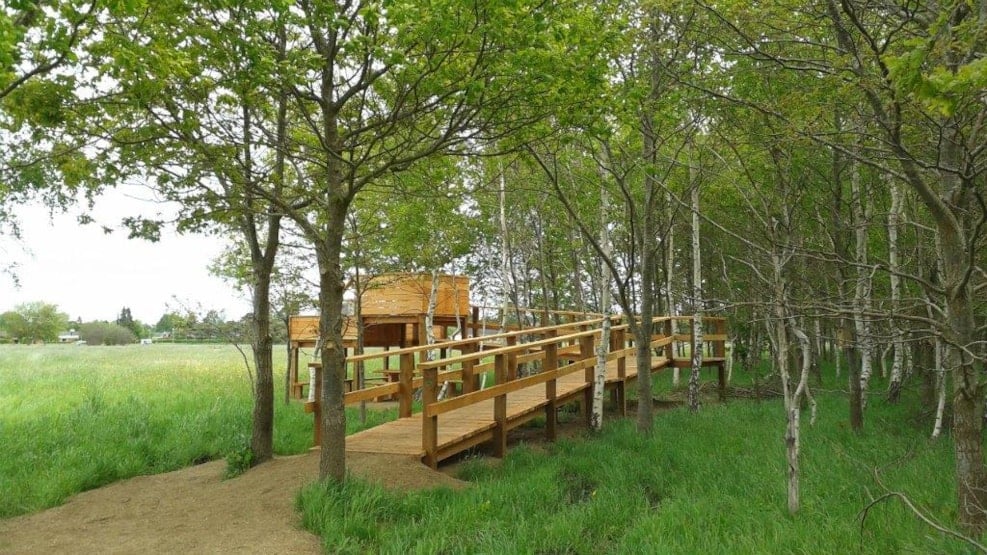 Karlslunde Mose
With its extensive meadows, the bog Karlslunde Mose is part of Karlslunde, Karlstrup and Engstrup Moser. Karlslunde Mose is an old lagoon and a former seabed which has slowly turned into land. Evidence of the old seabed can be found in the water vole and mole hills. If you poke around the hills, you will find shells of e.g. cockle.
Karlslunde Mose is a scenic area with abundant flora, and the diversity of habitats ensures a varied wildlife such as bats, frogs, toads, butterflies, dragon flies, damsel flies and grasshoppers.  But also mammals such as roe deer, fox, mouse and squirrel can be found in the area, and depending on the season, you can both see and hear numerous birds such as nightingale, starling, heron, yellowhammer, kestrel, common buzzards, osprey and common crane.

In Karlslunde Mose, a few metres from the boundary to the local authority of Solrød, there is a birdwatching tower from which it is possible to get an excellent view of the bog and watch the birds at eye level. However, the birdwatching tower in Karlslunde Mose is not only for bird enthusiasts. It is also a popular excursion spot for families and institutions. The top of the tower has two exhibition boards on which you can read about the different birds in the area. 
The bird watching tower was built with special consideration for wheelchair users and visitors with prams and strollers, and under the tower, there is a small info centre with a table/bench where you can eat your packed lunch or enjoy a cup of coffee.
Address: The birdwatching tower is situated midway on Holmestien between Holmevej 19, Solrød, and Engparken 60, Greve.