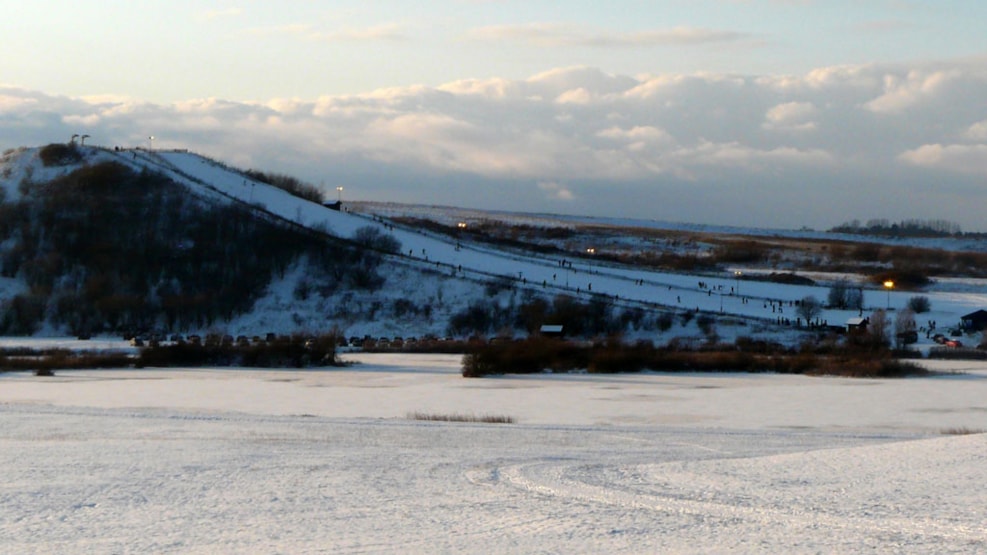 Ski slope in Hedeland
The ski slope at Hedeland is Denmark's largest alpine ski facility and has all the amenities associated with alpine skiing.
The ski slope is located in Hedeland, a nature and leisure area south of Hedehusene. Entrance off Tranemosevej, opposite Reerslev Church (Reerslev Kirke).
The artificial ski slope itself was constructed in the mid-1980s and is served by 3 lifts, two lifts on the left and a children's lift on the right. The capacity of the lifts is around 1800 people an hour. The hill is 45 metres high and 282 metres long.
Please keep up to date and check the ski slope's opening hours on its website.
On the left of the hill is a snow park. Sledging is not allowed on the slope but it is possible to sledge in the area to the right of the children's lift.
Ski training is also available. Look for the sign for ski training at the children's lift.    
You can buy food and drink in the clubhouse, as well as warm yourself. You can also enjoy any food you bring along in the eating area.
Hedeland Skicenter also has over 300 pairs of skis that can be hired, along with over 400 pairs of boots and around 100 helmets. Please remember your Danish Health Insurance Card and cash if you want to hire equipment!
The ski slope is lit up when it is dark and the ski centre has 4 snow cannons that cover the slope in artificial snow.